When you choose to make Vine House your home, you are given a welcome pack. The pack contains details of the service and care provided, contact details for the local authorities and CQC and a full Service User's Guide.
Terms and conditions and/or contracts are made available at any time.
Included in the fees are:
All meals and snacks.
All teas coffees and soft drinks.
All laundry with the exception of dry cleaning.
One morning and evening paper is provided.
Books, puzzles, games and therapeutic activities in place.
Toilet rolls, towels, bed linens and face cloths.
Hairdressing is not included but a hairdresser visits the home every 2 weeks, this service is at the discretion of the Service Users.
Meeting Needs
On moving into Vine House your needs are translated into a Care Plan, this will be drawn up by either our Care Manager or a Senior Carer with your wishes taken into full account. Your Care plan is kept up to date weekly is reviewed monthly. Appointments and treatments of any kind are recorded. All Care Plans are kept private though you have access to your own Care Plan at any time.
Short Term Stays
If you join us on a short-term basis only you will be helped and encouraged to maintain skills that guarantee independence.
Intermediate Care
If you have joined us for a period of rehabilitation we can help with exercise and the maintenance of skills to guarantee independence.
Day Care
You may simply wish to have somewhere to have a meal amongst friendly faces or somewhere to spend the mornings or afternoons. Day care is there for people who simply want to spend time away from their own home but with full care on hand.
Social Activities, Hobbies, Leisure and Interests
A programme of activities is in place designed to encourage you to remain mobile and most importantly maintain an interest in life.
Board games: Chess, scrabble, draughts
Flower arranging
Bingo
Cards
Armchair exercises
Reading: Magazines, newspapers, books and audio books
Movies
Walks
Music and sing-alongs
Maintaining lifelong hobbies.
The programme of activities will take into account your interests, skills, personalities and medical conditions. The following games are available and have been designed for people with fading sight:
Cards
Bingo
Draughts
Picture Puzzles
Dominoes
Ball games - feet or hands.
Religious Services
You can of course choose to meet with clergy of your own denomination at any time. This can be done in the public areas or the privacy of your own room. A priest and minister visit the home once a month for those who wish to take Holy Communion. Sunday Service can be watched on TV. If you prefer to attend church you can arrange to do so with family and/or friends.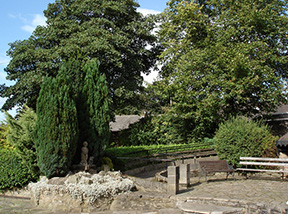 Visiting
Visitors will always be welcomed at any reasonable time and light refreshments will be available. Visits may be in public areas or in private as preferred.
Autonomy and Choice
Your comments are always welcome at any time on any improvements in your own care and the running of the home, we will always be happy to listen and to accommodate all reasonable requests.
You are welcome to bring items that are personal, including small pieces of furniture, pictures, photographs and ornaments; in short anything that makes you feel secure and at home.
You will be consulted over menus and your choices incorporated. Meals can be taken in the dining room or in your bedroom if preferred.
You will be provided with lockable storage for valuables and money.
You choose what time you rise in a morning and retire at night.
You have access to your personal records at all times.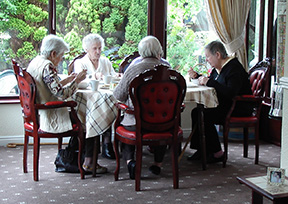 Meals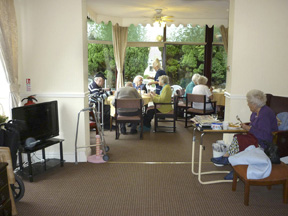 At Vine House we aim to provide a quality, varied menu incorporating your favourite dishes.
Breakfast choices include various cereals, porridge, eggs, toast, jams and marmalade.
Lunch and Tea are displayed and menus are changed weekly.
For those who require something different an alternative is always offered.
Breakfast starts at 8.30am
Morning Refreshments 10.00am
Lunch 12 noon
Afternoon Refreshments 2.00pm
Tea 4.30pm
Supper 6.30 and 9.00pm
Between meal snacks and drinks are always available.